Wednesday, March 20, 2013 at 4:31PM
|
Toria Spencer
I have come to accept, over the past few months, that the games I love the most are typically sims. I like replicating real life. I like working through scenarios that could happen in real life but not in my life. The idea of having control over a tiny fake person is kind of cool. It gives me that sense of achievement and success when one of my sims gets a kick-ass job and it makes me laugh when I occasionally become jealous of their precious little lives in their hyper-dramatic bubble.
Controlling a city, however, is a bit different for me. I remember playing a version of Sim City when I was a kid (though I'm not sure when or how) and finding it engaging because I could build and organize and create the weirdest possible infrastructure and it didn't matter if the layout didn't make sense. This is what drew me in to play Tropico 4 when it was put on sale on Steam last fall. I got to choose what to build, where to put it, which natural resources to utilize, how well my people were allowed to live, etc. Some aspects of this game surprised me, though (and still do, incidentally), that involve racism, sexism and just strange choices of stereotypes to follow.
There are some interesting differences when you first go to create your avatar. You may choose to be either a man or a woman, and can choose either a preset look or customize by choosing complexion/skin colour, hat, hairstyle, accessories, earrings and, for male avatars, facial hair. Here is a breakdown for how many options you can choose from for each, depending on the sex you opted for:
Presets: 14 male, 6 female

Skin Colour: 11 male, 6 female

Hat: 15 male, 6 female

Hairstyle: 10 male, 7 female

Accessories: 7 male, 6 female

Earrings: 0 male, 3 female

Facial Hair: 5 beards, 4 moustaches

Why the inequality here? If you want a positive spin on it, one could look at it from the angle that the developers were trying to get away from the idea that women are more focused on fashion and therefore shouldn't have as many options for clothing and hairstyle available to them, but realistically I think the developers were targeting men with the game and wanted to give them the option of being a bouncer or a pirate (for example) and didn't think to give the female leader those same options.
The disparity in these options seems less important when I remember that in Tropico certain jobs can only done by a specific sex. Anyone can work on a farm, for example, but only men can be college professors and only women can be elementary school teachers. Only men can work in mines and only women can work in the marketplace. Only men can be El Presidente's guards and only women can work in the immigration office. This seems absolutely ridiculous to me. Why have some jobs that only men or women can do? Why not both? (I should note at this point that this game's timeline starts in the 1950s when gender roles were still strictly enforced; however, as this game is hardly set in reality, this aspect of that time period could easily have been done away with, especially if they have women working in power plants and not in the salt mines. That's just plain nonsense.) It's also rather telling that only men are governmental advisors to El Presidente.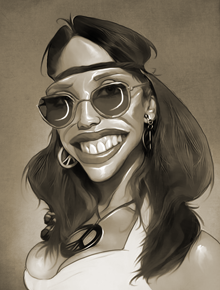 Every now and again, though, one of your citizens talks to you about an issue that they feel is important. The first that comes to my mind is the environmentalist Sunny Flowers. Sunny is a stereotypical 'child of nature' that spouts 'peace and love' to El Presidente when she requests that things be done about pollution and stopping the logging industry and the like. She is very much a caricature of the flower-power movement and of the hippie lifestyle, and I have to say that I'm glad she wasn't overly sexualized (they left that to the Education advisor, Ms. Pineapple). I like her character in general, though. She's got her beliefs and she's respectful about how she voices them, unlike Public Citizen #2.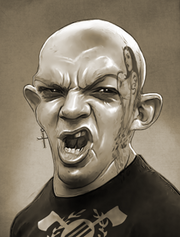 Next would be the tattooed, pierced and angry nationalist El Diablo. He's just plain old cranky and is always wanting El Presidente to crack down on immigration and tourism. He often suggests using violence against foreigners and says that they will incur the wrath of El Diablo. Honestly, I hate whenever this guy's window pops up. Just based on appearances, he isn't the kind of guy I'd want to run into on the street; adding a xenophobic side to him just makes him scary and (to this El Presidente) more than a little annoying. It makes me wonder if he was based around those people who are caught on hidden-camera shows saying things similar to "[Nationality] comes to our country and steals our jobs — they should go back where they came from, or else!" I can't think of many instances where a woman would go on repeatedly about things like that (though I should note it certainly isn't unheard of); it was probably just 'easier' to write a male for this particular role.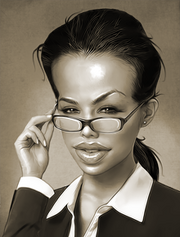 And then there's Miss Pineapple. She isn't so bad, really, except that she's been hit with the sexualization stick. Typically Miss Pineapple only comes to you if she has a suggestion related to improving Tropico's education system. Ordinarily I'd consider this a good thing … but then she talks about spanking the kids to get their attention or to punish them for going against El Presidente, and we know that she's talking about that kind of spanking. It's weird and kind of brings to mind pedophilia and cases of teacher/student relationships.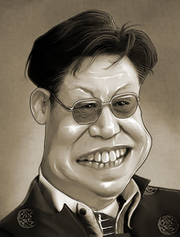 There are other little tidbits and trifle that hint at a subtle sexism in the game, but I feel I should mention that there are also racist aspects as well that were likely meant as jokes. Over the course of the game, you receive requests for trade from China and the Middle East. Both of those leaders are horrendously stereotypical caricatures of those ethnicities; the Chinese leader speaks with a parodied Asian accent and makes reference to the mighty Chinese dragon, and the Middle Eastern leader says that he has many wives and that he will throw in camels to sweeten the deal. It seems so unnecessary to include things like that, and it makes me wonder just why Haemimont Games and/or Kalypso Media felt they needed to throw them in.
These problems aside, though, I have to admit that the game is really quite fun and it makes for an interesting break from other sims. Just keep these issues in mind if and when you decide to give it a go!

Post a Comment
|